Would you like to protect your balcony or terrace from adverse weather? We have a wide range of roofing of various types of design for you. You can choose between polycarbonate and safety glass roofing. High-quality aluminium construction will ensure a long service life and easy maintenance.
Aluminium roofing is suitable for a family house, for the balcony of an apartment building, as well as for the terrace of a restaurant. The colour shade, size, and overall design are up to the new owner. We will create a completely customised solution for you, to suit your wishes.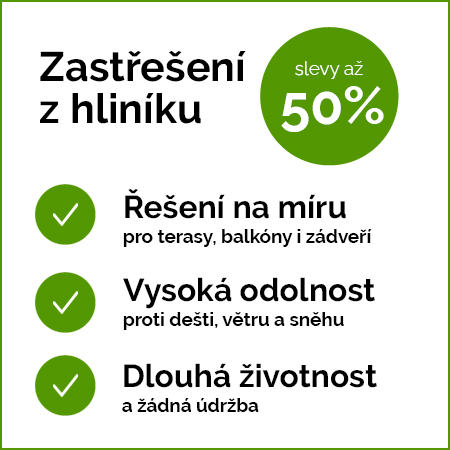 Nyní garance nejlepší ceny + slevy až 50% →
You can cover your terrace or balcony with a pergola or a winter garden.
The aluminium roofing is purely of our own production. Thanks to this, we will create a variant completely customised to your requirements. If you have an atypical terrace, balcony, or terrace, you will always find a solution. The size and shape of the structure can be completely customised to your needs. The colour shade and choice of accessories is up to you.
Choose from a wide selection. The most popular option is the aluminium pergola with polycarbonate or safety glass roofing. With its simple and unobtrusive appearance, it will fit in any place. It will also impress with its affordable purchase price.
Seasonal winter gardens will add another room to your home. You can enjoy sitting here on weekends or expand your botanical skills almost all year round. In addition, it saves your annual energy costs. A winter garden creates a neutral space that eliminates cold weather. In addition, the large glass walls absorb sun rays well and can heat the apartment or house in the winter months.
Right now Don't miss out on this opportunity
Quality products for a good price
Sunrooms, pergolas, carports with solar roofing
ShowroomThe largest showroom in the Czech Republic
Come see for yourself
Visit one of the largest show centers in the Czech Republic - Říčany near Prague and Holubice near Brno and choose from dozens of products.
You can expect to see:
The total floor space of all our showrooms together is 10 500 m2
A team of specialized sellers will help you
58 exhibited products
More information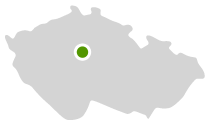 Technical Specifications
The aluminium structure is coated with a protective layer and it can withstand both severe weather and mechanical damage. It is a product of our own production, thanks to which we are able to create a completely customised solution. The roofing can be anchored to the house or left freestanding. The system can be complemented with shading to protect you from strong sun rays.
The polycarbonate roofing will impresses with its durability, long service life, and easy maintenance. Despite these features, it keeps a sufficient level of transparency. In winter, it can withstand even heavier snow cover. Its UV filter protects from sun rays.
The safety glass is virtually unbreakable and can withstand heavy rain, wind, and hail. If it gets damaged, it breaks into small pieces without any risk of hurting anyone around.
The size of the roofing can be completely customised and adapted to the dimensions of the terrace or balcony.
Variability of design
Durability
Long service life
Simple and elegant appearance
Choice of colour design
AdvantagesWhy Roofing from Us?
Everything customised - to suit your house exactly
Czech production - everything is born under our direction
Aluminium construction - quality and durability for many years
Customer service - your wishes come first
Wide range of products - we have something for everyone
HobbytecA Family Corporation
We perceive satisfied customers and high-quality products that would bring them joy and benefit as our first priority.

PROFESSIONAL INSTALLATION

We offer installation of our products throughout Europe.

Design, Quality, Price

Our products combine timeless workmanship, high-quality materials, and an unmatched price on the market.

LARGEST SHOWROOMS

Currently, we are building showrooms all over Europe to allow our customers to observe the quality of our aluminium structures in person.

IN-HOUSE PRODUCTION

We draw on our own production. Thus, we can create bespoke garden structures.

THE WIDEST PRODUCT RANGE IN THE EU

We offer our clients a comprehensive range of aluminium garden structures manufactured in-house.