Isolated
dog huts
consist of a metal zinc plated frame, 3 cm polystyrene and 3 cm insulation. The roof is tiltable, removable, with galvanized sheet metal or board. All the corners are protected against occu- sion. The 5 cm feet keep moisture away from the ground. The floors are treated with mold and moisture.
Best Selling Insulated Booths for Dogs:
Isolated shed 80 x 50 x 50 cm
Isolated shed 100 x 70 x 70 cm
Isolated shed 120 x 80 x 80 cm
Isolated shed 130 x 80 x 80 cm
zoned shed 160 x 90 x 90 cm
The desired size, including the exact price, can be found in the tab on the right. When ordering, choose the size you want.
Dogs can be
transported throughout the Czech Republic through courier services
Chambers are supplied as assembled.
For more information, please contact us.
The right dog shed size:

Structure
The rigid metal frame made of galvanized steel guarantees resistance to weathering and the overall stability of the shed. Frame construction is without sharp edges.
Walls
The walls of the dogs isolated either consist of 19 mm board, 30 mm polystyrene insulation and 3.5 mm thick sooly. The total wall thickness is 52.5 mm. The interior walls are smooth and can be easily cleaned. Floorboards are treated with a colorless paint against mold and moisture.
Roof
Isolated sheds have a removable insulated roof for easy shed cleaning. The roof insulation is 30 mm polystyrene. Roofing is made of galvanized sheet metal. The roof is flat.
Floor
The floor consists of 30 mm polystyrene insulation and 14 mm thick chipboard. Moisture protection from the ground provides 5 cm of foot.
Entrance and partition
Wind protection is the partition that is inside the shed and separates the space of the bedroom and the hall. The partition and the entrance are covered with zinc-coated galvanized sheet.

Prices of huts and accessories are HERE .
Benefits of an insulated shed
Protection against moisture and cold 5 cm feet
Perfect weather protection
Easy cleaning of the shed
Removable roof
Insulation in all walls including floor and roof
Glove protection with zinc plated sheet metal
Solid metal frame and legs
Floors treated with mold and moisture with colorless paint
The total wall thickness in isolated 52.5 mm
Isolated or weatherproof bulkhead
Booths for all breeds of dogs
Stable and durable design
Long life
Made in the Czech Republic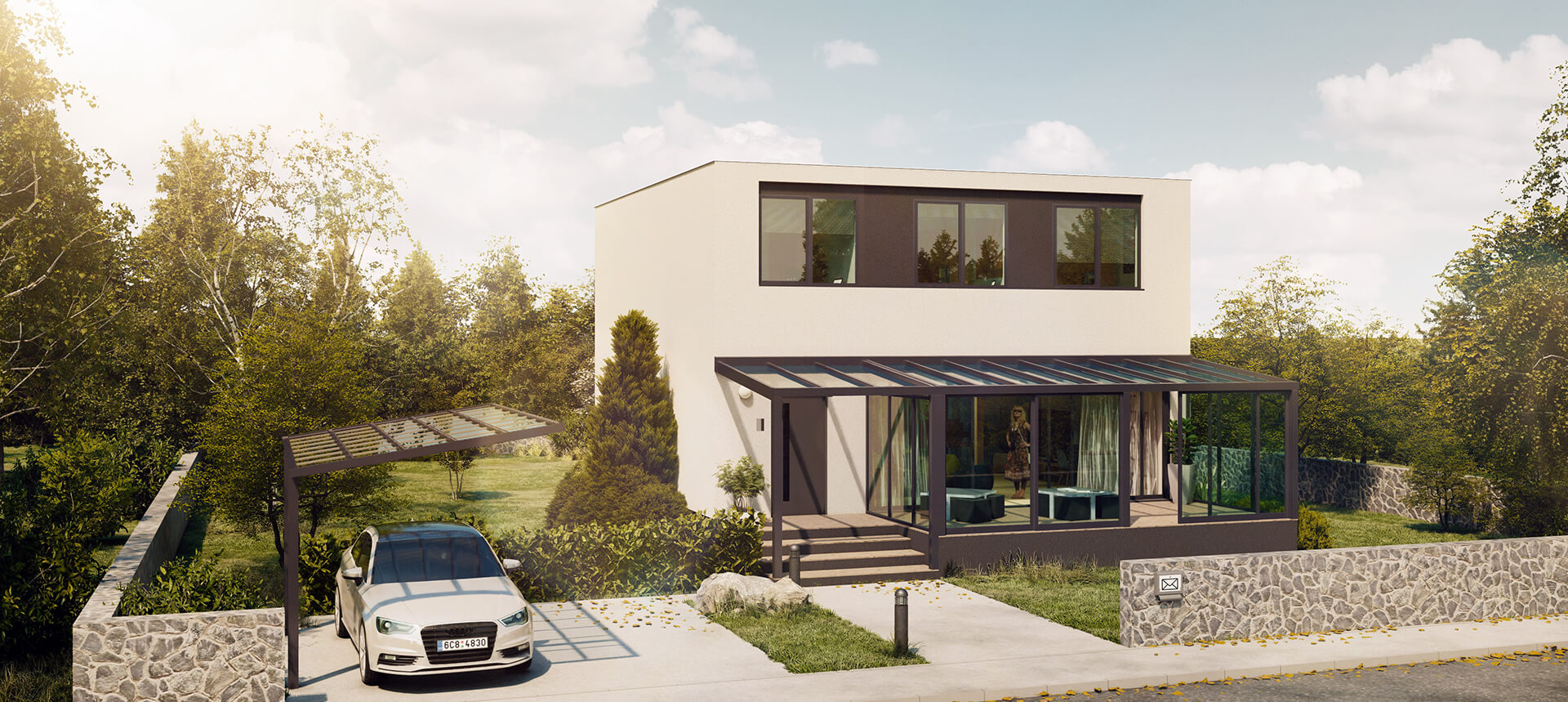 HobbytecA Family Corporation
We perceive satisfied customers and high-quality products that would bring them joy and benefit as our first priority.

PROFESSIONAL INSTALLATION

We offer installation of our products throughout Europe.

Design, Quality, Price

Our products combine timeless workmanship, high-quality materials, and an unmatched price on the market.

LARGEST SHOWROOMS

Currently, we are building showrooms all over Europe to allow our customers to observe the quality of our aluminium structures in person.

IN-HOUSE PRODUCTION

We draw on our own production. Thus, we can create bespoke garden structures.

THE WIDEST PRODUCT RANGE IN THE EU

We offer our clients a comprehensive range of aluminium garden structures manufactured in-house.